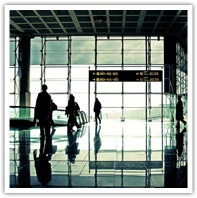 Atlantic Travel is a comprehensive travel agency, dedicated to meeting the needs of preferred corporate and leisure clients. As a complete travel agency with over 30 years of experience, we are uniquely positioned to provide the highest quality service to our clientele.
Our people make the difference: professional, helpful, and enthusiastic. Averaging over 30 years of experience, our consultants offer expert guidance in domestic and international travel. Atlantic Travel is your customer advocate with airlines, limo rentals, and package tours.
Atlantic Travel is where we open doors to luxury travel not available anywhere else. With our internal travel and limousine services we can provide luxury service door to door.
In business since the 1980's, we have enjoyed many years of serving the traveler who places knowledge and service ahead of price. The success of Atlantic Travel is due to the relationships with our clients. Our experts specialize in different areas of the world providing up to date knowledge to turn your dreams into reality. It is our passion for travel that insures an unparalleled luxury vacation for you. Whether your luxury travel takes you around the corner or around the world, we provide one on one vacation planning, getting to know your specific needs.
So whether it's to the far east to walk along the Great Wall of China or a trip to Mecca to make your sacred pilgrimage of Hajj or to visit the skyscrapers of New York, or a scenic cruise down to the Caribbean -- we have something for you!